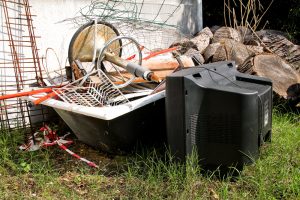 Summer is a great time to do some decluttering and cleaning that you put on hold during the colder months. Unwanted items and junk can take up space, attract nasty critters, create bad odor and simply mar the beauty of your home. You don't have to live with junk because there are services out there that can help you to haul away and dispose of unwanted items. Here are 5 popular summer junk removal requests.
Mattress Removal
You have bought yourself a new mattress because the old one is no longer doing the trick. What to do with the old one? It's typical for individuals to put it in their basement or in their attic, where it collects dust and takes up valuable space. Getting rid of an old mattress can be a difficult task because it can be large and difficult to move on your own, and worse, you can't simply throw it in the dumpster. This is why you need to make a junk removal request so that someone else can do the heavy lifting and relieve you of the cumbersome task.
Couch Removal
Furniture removal is another popular summer junk removal request. Couches come in all sizes and weight, and big, bulky couches are heavy, awkward and hard to maneuver. Whether it's a love seat, sectional sofa or a hide-a-bed, having professional help is a great way to remove a dingy couch and make space for a new, comfy one.
TV Removal
It's important that you handle your junk television disposal responsibly, especially old TVs that typically contain harmful chemicals and has the potential to cause environmental damage. TV removal request is popular today since a lot of folks are getting rid of their big tube TVs and replacing them with wide screens. If you have a small car like a Prius, a 180 lbs TV is too big to fit in your vehicle, and so, professionals could get the job done right for you.
Appliance Removal
Trying to dispose of an appliance is a difficult undertaking on your own, be it a fridge, stove, or washing machine. Appliances are heavy, hard to lift and move, and can harm the environment if not disposed of properly. Whether you are giving your old appliance to charity, recycling it, or disposing of it completely, junk removal professionals can provide efficient, safe and eco-friendly services.
Garage Junk Removal
Garage junk is the miscellaneous items category because a combination of items is typically stored in a garage. This kind of junk is usually acquired over several years, and becomes outdated, damaged or are not used at all. Why keep it around while your car is parked in the driveway? Declutter your garage and make it a junk-free zone.
Junk Removal in Lynn, Swampscott & Peabody, MA
Whether you are doing a summer clean-out, or spring cleaning, removing junk from your home is important for your safety, health and the beauty of your home. To schedule junk removal in your home, contact Flannery's Handymen by calling 781-775-9943 or by filling out our online contact form.