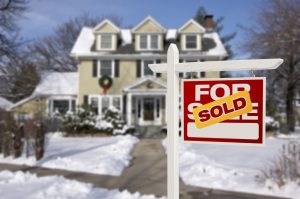 Moving in the winter can be difficult. In addition to having your belongings packed and prepared to load on the truck, you have the added challenge of unpredictable weather, with snow, ice and sleet always on the horizon. Preparing as much as you can ahead of time can reduce the stress of your move, and these tips can help!
Before the move
In the week before your move is scheduled, keep an eye on the weather forecast. If the weather looks too dangerous to move, you may need to reschedule your date with the moving company. If this needs to occur, your moving company will call you a few days beforehand to develop a backup plan.  Verify that your utilities will be on through the move date in your old residence, as well as turned on in your new home. Make sure each residence is equipped with shovels, salt, ice melt and sand in case of an unexpected storm, and arrange for snow removal at your new home ahead of time to keep your driveway safe for the movers and your belongings.
The day of your move
On the day of your move, make sure both locations are prepared for snowfall and remain safe for your movers. If snow falls throughout the day, have a member of your family ready at the destination to remove snow and put down sand for traction. Prop exterior doors open so the movers can move in and out of your home easily, and be patient. A little bit of cold air will be worth having your belongings safely in your home, and your movers uninjured.
Winter Moving in Lynn & Swampscott
If you are interested in hiring professional movers this winter, contact Flannery's Handymen today! Our team will work with you to plan a quick and efficient move, and take any gently used items you do not want and recycle or donate them to a charity in need. To schedule a cleanout, give us a call at 781-775-9943 or fill out our online contact form.