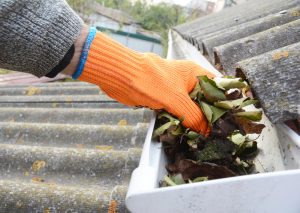 Foliage season is in full swing, which means the leaves are starting to fall. It's an important time of the year for home maintenance, particularly your roof. Leaves can clog your gutters, which can lead to water damage to your home. Before it gets too cold, you should clean out your gutters of any debris, and revisit it once or twice as fall progresses.
How to Clean Your Gutters
Since cleaning your gutters will involve a ladder, make sure you have taken proper safety precautions prior to beginning. Make sure you have safety goggles, thick gloves and ideally, someone who knows you will be using the ladder. You should at least make sure someone close by knows you will be using the ladder in case of an emergency. Remove the gutter covers and use a small shovel or trowel to remove debris from your gutters. Make sure to be gentle so you do not damage the gutter, and wear your gloves to protect your hands from sharp debris. Flush your newly clean gutters to wash away any small debris caught along the edges. This is also a good way to check the flow of water through the gutter system. If the water is still not flowing properly and clogging at one section of the gutter, you will need to flush out the downspout by spraying a pressure nozzle into the base. After clearing your downspout, you will need to flush the gutter again.
Professional Gutter Cleaning in Lynn, MA
If heights make you uneasy and you've noticed some damage to your gutters, call a professional to clean them for you! The team at Flannery's Handymen will be more than happy to help you get your gutters ready for fall. We can schedule a time that works with you to perform a full gutter cleaning and inspection. Flannery's Handymen can be reached at 781-775-9943 or by filling out our online contact form.