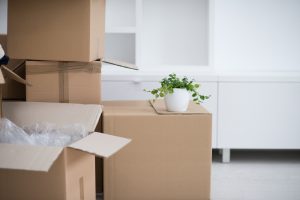 If you are having professional movers come to pack your home before you move, there are certain steps you should take to prepare for packing day. This could be a relatively painless day if you take the right precautions.
You should start by decluttering your home. Moving a messy room is possible, but not easy. Take this time to declutter your home and get rid of belongings you do not need anymore. Whether it is clothing that no longer fits, books you no longer read or toys your children have outgrown, sort things into four piles: keep, throw away, donate or sell. You can also take this time to discard items that your movers will not be able to pack and transport safely, such as plants, paint, oils and perishable foods. Donate what you can, and look at your town's guidelines for disposing of corrosive material.
Before packing, take photos of anything valuable that may be damaged in transit. Photos will make it easier to file a damage or insurance claim, if need be. Photos will also help you compile an inventory list to keep track of all of your packed and delivered belongings
If there are items you are planning to pack and move on your own, move them into a designated room and let the movers know before they begin working. These can be valuables and essentials for your "first week" boxes. Keep the items you will absolutely need in your first few days separate from everything else so it won't get packed in the wrong box or put on the moving truck. This should include prescription medications, a few days' worth of clothing, sheets, toiletries and nonperishable food.
You should make sure you make your movers feel comfortable around your family and home. Show them around your current home to give them an idea of packing priority, and show them where everything is going to go in your new home. Come up with a plan to get boxes to their designated rooms once everyone gets to your new home, and establish a clear line of communication. Provide them with food, snacks, and water, and show them where the bathrooms are. After the job is done, tip them if you think they did their jobs well and you feel like you had a good moving experience.
If you are looking to have professional movers help you move, contact Flannery's Handymen. We will pack and move your belongings efficiently and safely, and we will work with you to schedule a move that works with your schedule. Contact us today by calling 781-775-9943 or by filling out our online contact form.